About Dr. Trini Vega
Aventura Best Cosmetic Doctor: Dr. Trini Vega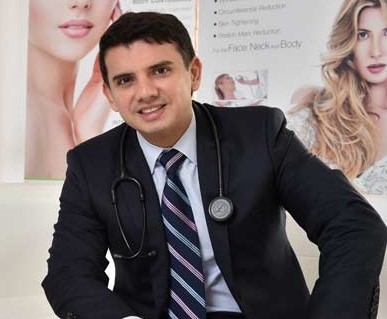 Doctor Vega received his medical degree as Physician and Surgeon from Universidad Libre in Cali, Colombia. Dr. Vega completed his residency program with the New York Medical College in New York.
His eagerness for knowledge started when he was still a kid; He obtained 100% scholarships throughout grammar and high school, graduated with Honors as the most outstanding student, and obtained the highest scores in the ICFES test (99 percentile in the Colombian vesion of the SAT test in the USA).
Post completion of medical school in 1999, Dr Vega practiced with excellence in primary care, emergency medicine and aesthetics for around 7 years in Colombia.
In 2006, he decided to move to the United States to continue his training and professional growth. He is a member of the Kaplan Honor Society for achieving high scores on the United States Medical License Examination (USMLE) tests.
In addition, Dr. Vega is a member of:
American Academy of Aesthetic Medicine (AAAM)
American Academy of Anti-Aging Medicine (AAAAM or A4M)
International Association of Physicians in aesthetic medicine (IAPAM)
American Society for Laser Medicine and Surgery (ASLMS)
American Society of Liposuction Surgery (ASLS)
American Academy of Cosmetic Surgery (AACS).
Dr. Vega is an expert practitioner in Advanced Medical Aesthetics , Cosmetic Surgery, Weight Loss medicine, Anti-Aging and Bio-Identical Hormone Replacement Therapies.
With over 19 years of experience in the medical field as a general practitioner, medical aesthetics , and emergency medicine, Dr. Trini Vega always sought out innovative yet practical solutions to the most common health issues in the medicine of beauty and wellness.
He emphasizes patient safety, nutritional education, maintenance and preventive medicine.
His goal is to offer to his patients the most current, safe and effective treatments available in Cosmetic Surgery, Medical Aesthetics and Anti-Aging Medicine.
Come and meet Doctor Vega!

About Our MedSpa
The Premier MedSpa

Biotech Wellness Center was established as South Florida's first comprehensive MedSpa with aesthetic and wellness oriented treatments. We offer our clients
Facial Rejuvenation services,
Body Contouring procedures,
Aesthetic Treatments ,
AntiAging therapies
and Weight Loss solutions.
Our mission is to bring the latest in aesthetics and anti-aging medicine to our local communities. We achieve this goal by providing our patients, the most complete list of aesthetic services that any medspa can provide and by giving those patients the best and most modern medical advancements in the industry.
The Best In Modern Aesthetics
The Biotech Wellness Center is equipped with the most advanced medical equipment that modern technology can provide. We utilize this cutting edge technology to give our patients unique services that aren't available at just any medspa. This technology also allows us to give our cosmetic patients safer, more effective and more precise procedures for the best possible results. Achieving your best self has never been easier thanks to the advances in the field of aesthetic medicine.
We understand that your appearance means more than just looking good, it's about looking on the outside how you feel on the inside. Whether that means tightening, slimming or contouring, every procedure should result in your precise vision. With our advanced equipment and medicine, you can rest assured that you will get the exact look and feel that you are desire with far less risks than more traditional operations. However, it takes more than high tech equipment to have you looking and feeling your best.
Meet Our Cosmetic Surgeon
The Biotech Wellness Center is headed by cosmetic doctor, Dr. Trini Vega .
Dr. Vega has over 17 years of experience shaping the look and lives of patients from all around the globe. From a young age, Dr. Vega had a passion for knowledge and drive to succeed and help others. This drive led him to graduating from the Universidad Libre in Cali, Colombia with a medical degree as a surgeon and physician.
After 7 years of practicing as primary care physician, emergency medical personnel and aesthetics specialists in Colombia, Dr. Vega decided to attend the New York Medical College to expand his professional capabilities.
He is now board certified in internal medicine, holds memberships in the Kaplan Honor Society, the American Academy of AntiAging Medicine, the International Association for Physicians in Aesthetic Medicine, the American Academy of Aesthetic Medicine and the American Society For Laser Medicine and Surgery.
Your South Florida MedSpa
The Biotech Wellness Center comes highly recommended for its cosmetic procedures. Not only does our med spa offer an unprecedented amount of aesthetic services, but we have the equipment and personnel to satisfy any need you may have. To achieve the beauty and wellness goals you have been dreaming of for years, don't take your chances on anyone but the best.
Contact the Biotech Wellness Center today!